Staff
Administrator
*Smoke*
Moderators
Roo12

Kitty
Retired Administrator and Owner

Mini~

~Another cringe warning: this is also based on an old form from the old site, although admittedly it's better than Stingpaw's form...~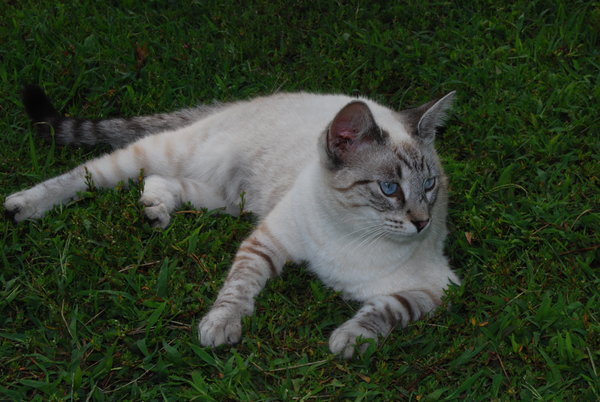 Character name:
Cotton
Nickname:
N/A
Character age:
17 moons
Gender:
Femal
Clan/Tribe:
Bloodclan
Rank:
Medicine cat
Personality: (Long Description)
Very shy and timid. She worries a lot and is very timid. Although she is shy she is ready to help her clanmates. Bloodclan is holding her "prisoner" because of her healing abilities, without her talent she would have been killed. She is reluctant to help Bloodlcan, but is slowly getting used to them. Her shyness makes her very careful and observant. She frets about small, usually unimportant, details and needs everything to be tidy. Once you get to know her and she leaves her shyness behind she is very optimistic and even funny. Though many of the cats in Bloodclan she will never open up to. She's a shy Medicine Cat but she isn't afraid to fight if she needs to, as fighting skills are pretty much necessary in Bloodclan.. She doesn't understand the point of fighting but if a clanmate is in danger from predators or other clans her claws are sharpened and ready. She is very smart and even sly. She can be very tricky to get out of a threatening or difficult situation. She doesn't believe in Starclan, despite being a medicine cat.
Appearance: (Long Description)
A white tabby she-cat with faded grey stripes and lighter greyish cream highlights. She has very light blue crystal eyes that twinkle in the sun. Her tail is long and has lots of darker almost black stripes that blend together. Her fur is short and doesn't look that fluffy, but her fur is probably the softest fur a cat has ever felt and is thick and hard to slice claws through. Her nose is orange-pink, and the backs of her ears are orange with faint black stripes. She has long legs and is good at running. She could escape from any cat without a watchful eye. Her light-colored fur makes her stick out in hunting and battles so she is better suited for finding and using herbs.
Mental Disabilities:
OCD
Likes/Dislikes:
+Watching birds
+Bird song
+Herb scent
+Butterflies
+Soft dry moss
+Healing
+Her soft fur and things that are soft like it
-Dogs
-Twolegs
-Male twolegs
-Battles
-Fights
-Hurt cats
-Strange cats
-The fact that her fur is white and sticks out
-Being made fun of for her past
-Bloodclan
Friends:
N/A
Enemies:
N/A
Current mate:
Forbidden (But technically Bloodclan doesn't follow the warrior code...)
Current crush:
N/A
Offspring:
N/A
Family:
-Mother: Unknown; Kittypet; Presumably alive
-Father: Rain; Rouge; Alive
-Brothers: 5; Kittypets; Presumably alive
-Half-Brother: Stingpaw
History:
Cotton was born in a kittypet building but denies being a kittypet. Her housefolk abandoned her and her family at birth. Her father abandoned her mother and siblings soon after. When some Twoleg rescue team discovered her mother and siblings Cotton had been hiding. None of the Twolegs saw her. When the Twolegs took her family away, she was left alone.
She stayed in that old Twoleg den until she was at least six moons old. Then she decided to explore. She ran into a Tribe along her travels. They helped her realize her natural healing talent. She was great with herbs.
Although she couldn't stay in the Tribe, she earned the Guest name "Cotton that Softens the Mountain" as she softened the hearts of many cats there. Her name stayed with her as she traveled the mountains though she was still just Cotton as heart. When the time came for her to leave the mountains some cats there suggested she go in the opposite direction; a place where Clans dwelled.
She visited the clans and spent some time in their territory. She was still very young at this point as she had a lot happen in her early moons. In the clans she earned the guest name "Cottonstripe". She once again received a new name that still did not replace her name: Cotton.
She liked her name. Cotton was a plant that was soft and fluffy, just like her. She had vague memories of a nest lined with cotton when she was a very little kit. Although the cotton was soft the plant itself was prickly. It was hard to find the center, the soft spot. She was like that. Shy, avoiding, even sly and tricky; it was hard to get to know the real Cotton. And even knowing her, you would never know when a hidden thorn would show itself.
She left the clans as she felt it was not her permanent place, but before she left she had some healing lessons from some of the clan medicine cats to help nourish her talent.
Now she is at the edge of a forest. A Twoleg Place looms ahead. She smells cat scent and.... Blood? Maybe.
Last edited by megarin on 08/01/16, 10:41 pm; edited 2 times in total
This is pretty much finished (except for finding the perfect picture!)
Cotton was one of my first characters and I wasn't ready to just throw her away! I'm planning to maybe change her up a little now that I'm better at rping, though.
Approved as the medicine cat of BloodClan :D
Making Killer now~ XD
_________________
Administrator




Posts

: 4119


Reputation

: 4


Join date

: 2013-04-30


Age

: 18


Location

: CONTACT ME THROUGH MY E-MAIL FOR IMMEDIATE RESPONSE :)



I've got pictures up but I couldn't really find one very nice one so I included a lower-quality full-body and a higher-quality close-up (the close-up has a signature though.)
Sorry, most of the pictures that fit my image of her were cats sitting around on top of blankets and stuff and I try to find pictures of outside cats for my bios...
Administrator




Posts

: 4119


Reputation

: 4


Join date

: 2013-04-30


Age

: 18


Location

: CONTACT ME THROUGH MY E-MAIL FOR IMMEDIATE RESPONSE :)




---
Permissions in this forum:
You
cannot
reply to topics in this forum