Staff
Administrator

*Smoke*
Moderators

Roo12

Kitty
Retired Administrator and Owner

Mini~

Character name:
Silver
Nickname:
Silver
Character age:
Fourteen Years
Gender:
Female
Clan/Tribe:
Pack Lupa
Rank:
Regular Shifter
Personality: (Long Description)
Silver is a young, strong she-wolf.
She will always stand up for what knows is right, and the other wolves know not to challenge her.
She is extremely strong for her size. She can win battles against most of the wolves in her pack. But she isn't the type to brag about her winnings.
Silver is very clever and smart. She is one of the smartest wolves in the pack and loves to show her knowledge.
The ancient world is the one she admires and worships. She loves old tribe tales and the life lessons they have to offer.
She has a medically identified case of paranoia and doesn't like when other wolves stare at her. She also has autophobia. Whenever she is alone her paranoia kicks in really badly and she has panic attacks.
Appearance: (Long Description)
Silver is exactly what her name implies.
Silver.
Her coat isn't as thick as many other wolves' fur. But it fluffs up and is very silky, smooth, and soft. It is also very long.
She has a white underbelly that gently shifts to a silvery-grey back. Her tail is entirely white and the silver masks the inner rim of her face. Her cheeks, however are white as well as her snout.
Her snout, speaking of which, is very narrow and tipped with a black nose that sticks out from the rest of her light coloration. Her paw pads and claws are also black as night.
She has huge and curious eyes that never seem to blink. Her right eye is a deep, meaningful, forest-brown while her right eye is the bright, clear color of the snowy morning sky. But nothing is wrong with her eyes.
Her legs are long and look thin. But they are actually very strong and she can pin wolves three times her size down with them.
Speaking of size, she isn't very big.
No one knows what exactly happened, but something in her gene pool must've not come out right with her size and the difference in her eyes.
She has a long four claws marks running down her left flank. It's a bad scar but she hides it with her long fur.
Silver never has told anyone how she got it.
Mental Disabilities:
N/A
Likes/Dislikes:
+ Nature
+ Music
+ Snow
+ Her Pack
+ Freedom
- Being Alone
- Staring Wolves
- Utter Darkness
- Bugs
- Bullies
Current mate:
N/A
Current crush:
N/A
Offspring:
N/A
Family:
-
~~~~~~~~~~~~~~~~~~~~~~~~~~~~~~~~~~~~~~~~~~~~~~~~~~
Full Name: Silver
Nickname(s): Silver
Gender: Female
Age: Fourteen
Birthday: -
Sexuality: Straight
Religion: Slightly Native American
City/Town Of Birth: -
Currently Lives At: The Forests
Languages Spoken: English; Wolf
Native Tongue: Wolf
Relationship Status: Single & Not Interested In Dating
PHYSICAL APPEARANCE
---
Picture: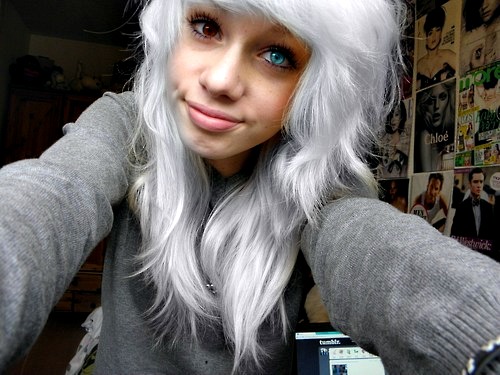 Height: 4" 5'
Weight: 99 Lbs.
Figure/Build: Skinny; Slight Curves
Hair Color(s): Silver (Naturally)
Hair Style: Fluffy; Wavy
Eye Color: Right- Brown; Left- Blue
Tattoo(s): None
Piercing(s): None
Scars/Distinguishable Marks: Four Long Claw-Mark Scratches Down Lefter Torso
Preferred Style Of Clothing: Grey Sweater
HEALTH
---
Does Drugs: False
Addictions: Chewing Things; Tilting Her Head
Mental Disabilities: Paranoia
PERSONALITY
---
Traits: Strong, Smart, Cunning
Likes: Wolves, Snow, Nature
Dislikes: Mountain Lions, Pollution, Warm / Humid Weather
Fears/Phobias: Autophobia
Favorite Color: Silver
Hobbies: Singing
Taste In Music: Traditional Native American Music; Modern Human Music
FRIENDS, FAMILY & FOES
---
Parent's Names: -
Grandparent's Names: -
Status Of Parents: Mother- ? Father- ? Siblings- None
Siblings: None
Words From Silver About Her History About Herself:



Posts

: 2054


Reputation

: 2


Join date

: 2013-04-30


Location

: Reading my old posts and cringing




---
Permissions in this forum:
You
cannot
reply to topics in this forum