Staff
Administrator

*Smoke*
Moderators

Roo12

Kitty
Retired Administrator and Owner

Mini~

Two pairs of our cats went down paths, of which they have not returned and may not ever be able to. They've made life or death choices, had our full attention and love, and we both miss them dearly. But what if we could go back, and change their history? Not permanently, but rather just explore a different way in which they could have taken?
Their complex lives, which we both devised in our own minds on our own muse, was all us. Me and you, how we met, how we began, our past that we had made into our own story. It influenced our felines, so how would us now affect them?
Well, as a birthday gift from me to you, I give you the opportunity to make them go a different way.
Don't tell it was never in the back of your mind that you wanted to change something about what our cats did together, and now's your, our, chance to see what would have happened.
Basically, if you don't get what I'm saying/typing, we re-role-play Smokepaw, Stingpaw, Killer, and Cotton. Before they were complicated.
______________________________________________________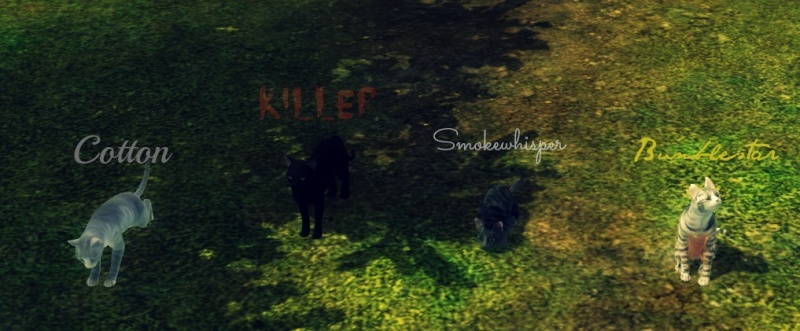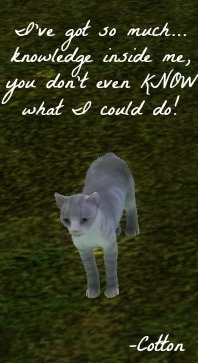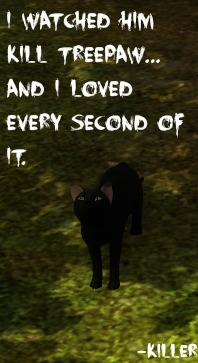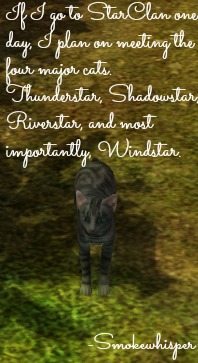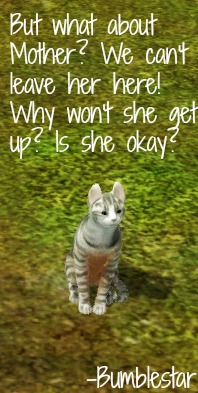 Do you want to re-role-play them? Yes or no?
Last edited by *ѕмσкє* on 12/01/14, 11:31 am; edited 1 time in total
_________________
Administrator




Posts

: 4119


Reputation

: 4


Join date

: 2013-04-30


Age

: 17


Location

: CONTACT ME THROUGH MY E-MAIL FOR IMMEDIATE RESPONSE :)



Thank you so much Smokey!
This is a really great idea!
You don't know how awesome your really are.
We can start these later, then, right?
I'd write more right now but I'm not in a great mood.
My pet frog just died.



Posts

: 2054


Reputation

: 2


Join date

: 2013-04-30


Location

: Reading my old posts and cringing



Oh, that must.... suck. I'm sorry, I don't know another word to use. May he rest in peace.
_________________
Administrator




Posts

: 4119


Reputation

: 4


Join date

: 2013-04-30


Age

: 17


Location

: CONTACT ME THROUGH MY E-MAIL FOR IMMEDIATE RESPONSE :)



Administrator




Posts

: 4119


Reputation

: 4


Join date

: 2013-04-30


Age

: 17


Location

: CONTACT ME THROUGH MY E-MAIL FOR IMMEDIATE RESPONSE :)



Okay lol.
Didn't see those.
Thanks!
:)



Posts

: 2054


Reputation

: 2


Join date

: 2013-04-30


Location

: Reading my old posts and cringing



I just put them up, so don't worry :3
_________________
Administrator




Posts

: 4119


Reputation

: 4


Join date

: 2013-04-30


Age

: 17


Location

: CONTACT ME THROUGH MY E-MAIL FOR IMMEDIATE RESPONSE :)




---
Permissions in this forum:
You
cannot
reply to topics in this forum